Expanding farm network aims to stay one step ahead of the game – Farmers Guide – Stuart Hill, Rob Jewers
Over the next decade, change is inevitable, but farm businesses need to remain financially profitable and sustainable throughout ...
With new technologies and practices constantly being developed, the Hutchinsons Helix Technology farms are testing the value of these at farm scale level.
In order to keep up with the many new challenges and opportunities hovering just on the horizon, agronomists and growers will require new technologies and practices that allow them to become increasingly more efficient and adaptable, believes Hutchinsons head of technology and innovation, Stuart Hill.
The most important question is whether these technologies have a benefit at farm level-are they affordable and practical and do they improve productivity and profitability, he says.
Stuart Hill, Head of technology and innovation
The national Helix site, which was launched last summer, is hosted by Andrew and William Pitts of JW Pitts & Sons, located at Mears Ashby at Whiston in Northamptonshire. Work conducted at the national site, has already facilitated the launch of exciting tools such as TerraMap-the highest resolution soil mapping system available, the Omnia precision climate module, a BYDV prediction model, and later this year a rotational planning tool and a carbon mapping tool.
Now, Hutchinsons is rolling out the Helix farm concept to regional centres and the first of these is the Helix East farm, near Bury St Edmunds in Suffolk. Additional sites in north and central England will be launched later this year.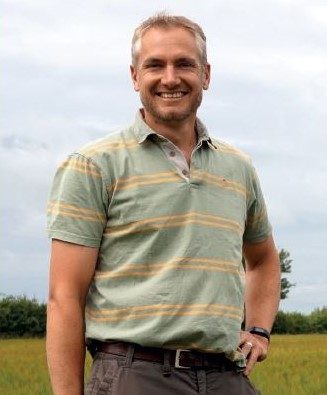 Tom Jewers, Helix East Host – G D Jewers
Helix East is hosted by Tom Jewers of GD Jewers & Son at Wood Hall Farm in Rattlesden. As the fifth generation of Jewers on farm, Tom manages 260ha of his own land, plus 125ha of contract land. He also oversees 600ha of contract spraying and 100ha of contract drilling.
The farm's rotation is based on completely combinable cropping, incorporating winter wheat, winter barley, spring barley and OSR, with linseed and winter beans as break crops, one year in eight which is up from one year in five, since sugar beet was dropped from the rotation.
Tom currently practises regenerative agriculture, after years of the family farm relying on the plough, as the farm had been spending a lot of time and money on getting a good seedbed and, in Mr Jewers' words, "the writing was on the wall for ploughing", so he bought a direct drill and, for him, that opened up a whole raft of questions.
With the direct drill not mineralising nitrogen etc, consideration had to be given to the soil health, which Tom refers to as "muck and mystery" – making decisions on what is both best for the soil, but also best for their pockets. Therefore not adverse to trying new things, Tom believes that by hosting the Helix farm it provides him with an excellent opportunity to test new technologies and approaches on his own farm – at no risk to him.
Hutchinsons Helix East co-ordinator and crop nutrition specialist, Rob Jewers, will work closely with Tom across all of the focus areas and explains that these will be run on an improve or remove basis, ensuring that improving farm performance and therefore profitability remain the focus.
"Everything that we are doing on the Helix sites will link closely to integrated crop management (ICM) as we know that this will be a key requirement for future farming systems, and we are able to trial and test them within this context which is a really valuable output," he explains.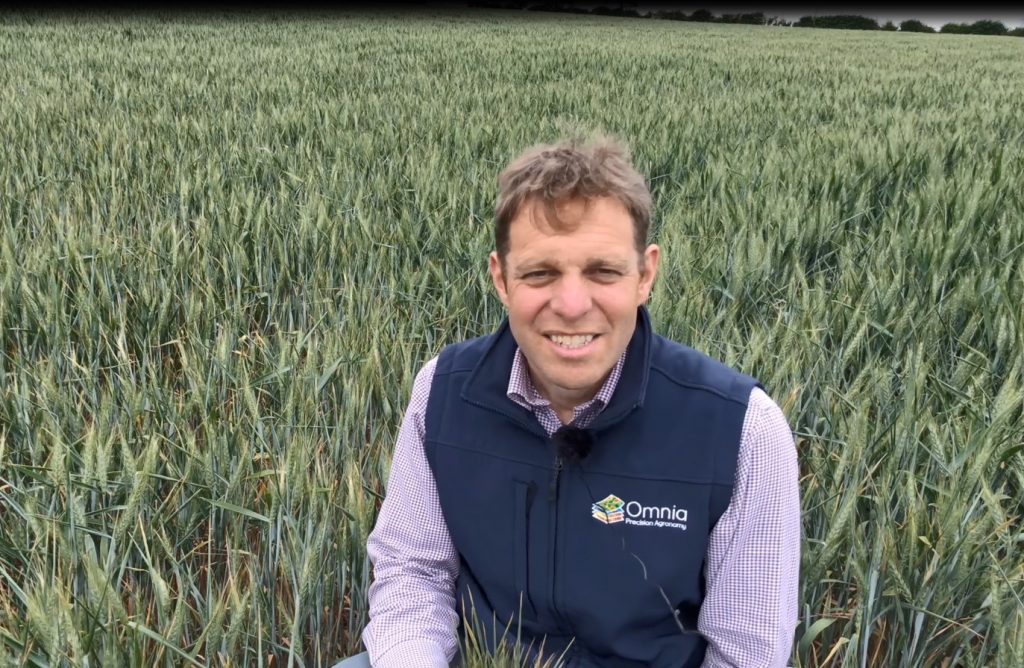 Rob Jewers, Helix East Co-ordinator and crop nutrition specialist
He highlights the pest and disease forecasting tools being developed through the Omnia Climate module, that brings together crop modelling, weather forecasting tools and historical data to ensure that spray timings are applied as accurately as possible and linked to the variety, yield prediction and threat.
Tom is particularly interested in how he can use technology such as Omnia's yield performance and cost of production mapping to allow him to be ahead of the game when ELMS comes into force.
"As we move to public money for public goods, I need to know what my best options are – so now is the time to test these. If I know what works for me, we will be 'match fit' by the time ELMS is rolled out."
Carbon will become increasingly significant as part of this, he points out. "I want to know where we are with carbon now, so that I have time to look at any changes that I may need to make."
Working with his Hutchinsons agronomist Mike Greener, Tom plans to explore variety blends as a way of managing disease and if foliar nutrition can be used to replace certain inputs or improve nitrogen use efficiency.
"Hosting the Helix farm provides me with an excellent opportunity to test new technologies and approaches on farm"
"Working closely with Tom across all of the focus areas on an 'improve or remove' basis, ensures that improving farm performance and therefore profitability remain the focus"
Previous
Next