Making Sustainability Work for You
Sustainability should encapsulate the whole farm business, protecting valuable resources whilst optimising the profitability of the farm.
As the environment and biodiversity become ever more important to policy decision making, we are developing how growers will be able to deliver this within an integrated farming system.
The overall aim is for farms to build up and maintain a thriving ecosystem of soil, plants and wildlife, and that they use the farm's natural resources more sustainably and efficiently.
Helix Sustainability Project
What will I see?
We are currently testing and developing the technology to accurately detect and deliver pollinator-suitable flower species, so that they can be mapped in the appropriate locations on farm and via Omnia.
In the future these maps could be used to target areas in need of improvement and, with Omnia's field performance maps, to identify the areas suited for conversion to habitat.
The initial rounds of aerial imagery have already been obtained, and ground-truthing of the different flower species has been carried out within the margins.
What's the benefit to me as a grower?
Improve overall profitability by removing consistently poor performing areas from production
Utilising removed areas for a broader farm habitat
Evidence of habitat and stewardship management
Increased populations of pollinators & beneficial species.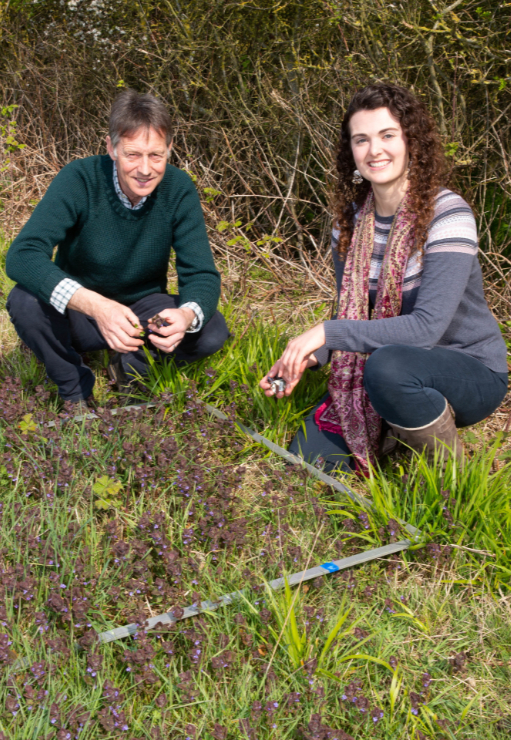 Andrew Pitts and PhD student Sarah Barnsley quadrat grid sampling from an environmental field margin at the national Helix farm.
Project Sustainability - Video Updates
Matt Ward discusses how the Helix project is developing a way of mapping environmental resources using remote sensing aerial imagery…
Bob Bulmer shares a look at some of the spectacular environmental habitats that have been created at HelixFarm, discussing how they have been specifically tailored to help pollinators thrive throughout the year…
Bob Bulmer discusses the importance of sustainability and shares a look at the trial site's winter bird food plot – highlighting how in summer they also provide birds with insects for their chicks.
Bob then goes on to discuss how Omnia's yield mapping can help you to find the best locations by targeting the least productive field areas…
Bob Bulmer shares an update on how the margins at the trial site are doing, the species currently species dying back and the species starting to come through – both those planted and those self-sown…