Our Helix Farm network is expanding!
Find the latest details on all the Helix Farms!
The National Helix Technology Development Farm
As a central hub for Helix, the Helix Technology Development Farm provides the opportunity to develop, trial and demonstrate the latest innovations and technologies at farm scale to determine their benefits. This applies to any projects that we are running and will run in future. If we can develop technology, the Helix farm will be the place to do that.
The national Helix Technology Development Farm is being hosted courtesy of Andrew and William Pitts of J W Pitts & Sons, located at Whiston in Northamptonshire.
"I'm very pleased to be working alongside such a forward-thinking business as Hutchinsons. We are running over 690ha here and our aim is to be productive, efficient and ultimately profitable, otherwise we have no farm. The relationship with the agronomist needs to adapt to this and will, with the use of technologies, become more strategic and inclusive of whole farm advice," says Andrew Pitts.
"The technology revolution is here and we need to ensure these are relevant, applicable and straightforward to use for all our benefits. I see a future when we will spend much less time field walking with the technologies available and more time on strategic discussion about the farm and sustainability."
Working alongside them are Hutchinsons' agronomists James MacWilliam and Michael Shemilt. Michael is the new agronomist of the 'now', testing and managing technologies with the farm to understand how they will work, how the relationship works and their value in the farm scale situation.
Work has already begun on the farm on areas such as climate and pest prediction, nutrition technology, variety trait work and environmental sustainability.
"We will aim to demonstrate these technologies by various means and not just the traditional farm open days. After all, this is about use and benefit of technologies, so technology will be used to demonstrate it," says Mr Hill.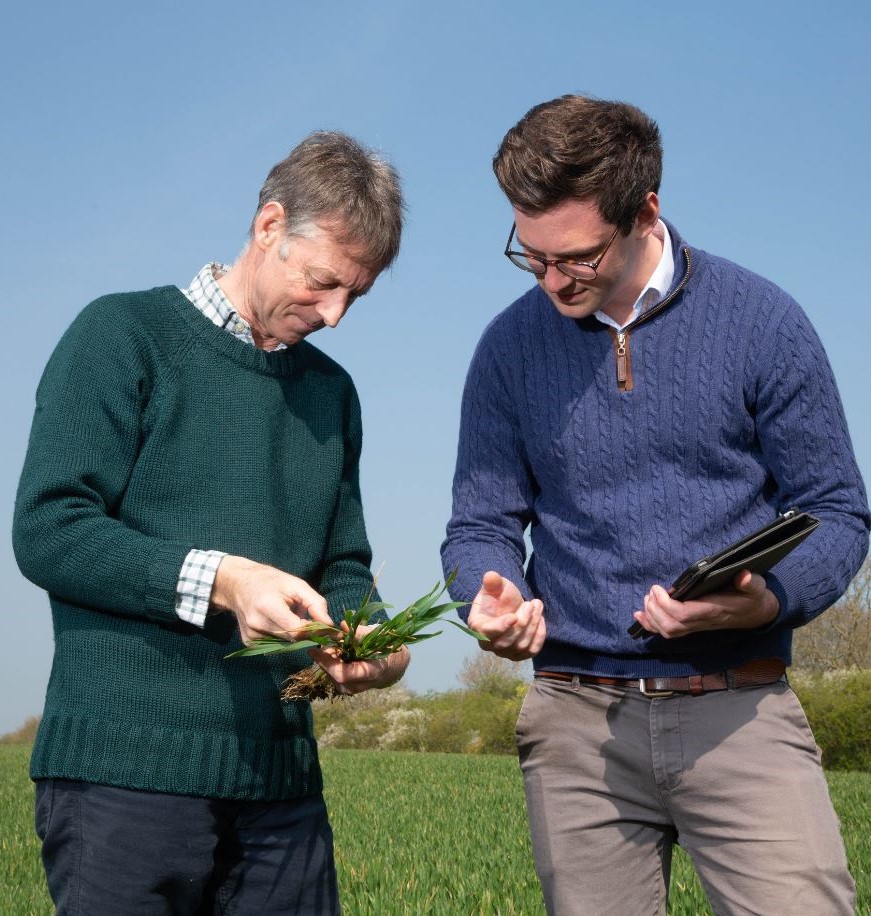 Andrew Pitts (Left) with Michael Shemilt (Right)
Bringing it All Together
Crop information, knowledge and experience from the grower and the agronomist will be a central part of the project, with decision support systems and technology feeding in to overall farm and business management.
Surveillance and predictive systems, nutrition, input and new trait technologies will also be assessed and developed in the Helix project. Managing the interactions of the myriad of variables and data that needs to be measured and understood will enable beneficial decision support to maximise efficiency, yield, quality and sustainability.
Helix is a collaborative project working with a number of established companies to integrate different technologies and systems, allowing the grower to fully benefit from innovation and decision support. All the linking of technology and knowledge will lead to decision making through the one hub system approach, Omnia.
"The technology revolution is here and we need to ensure these are relevant, applicable and straightforward to use for all our benefits. I see a future when we will spend much less time field walking with the technologies available and more time on strategic discussion about the farm and sustainability."