Helix East puts innovation to the test – CPM – Stuart Hill
Hutchinsons has launched one of three new demonstration farms for its Helix project ...
That aims to put new technology through its paces in a farm setting to assess the value for growers. GD Jewers and Son, near Bury St Edmunds, Suffolk, is to host Helix East.
"The aim of Helix is to evaluate new technologies claimed to add value to growers at a farm scale, rather than small-plot or tramline work," explains Hutchinsons head of technology and innovation Stuart Hill.
He points to the "huge" amount of funding currently going into Agtech – up from $1.58bn in 2013 to an estimated $5.5bn in just the first half of 2020, according to AgFunder. This is coming from all sorts of sources, he notes, with the likes of Microsoft, Google and Bosch getting involved alongside existing industry concerns. New government-funded AgTech centres and innovation schemes are also driving in new start-ups.
On top of that the pace of technology development is ten times faster than traditional input development. Within Hutchinsons we have the tools and expertise to develop these innovations and deliver the advice and interpretation required. But Helix is a collaboration, that brings the innovators together with the farmer.
The aims of Helix fit neatly with the journey taken by the 385ha farm based at Woodhall, Rattlesden, says Tom Jewers, who farms mainly combinable crops in partnership with his parents.
"We set out on a new direction in farming when we went into direct drilling in 2014. That brought with it a host of other questions – making better use of nutrients, the principles of soil, carbon, and balancing food production with care for the environment. It opened the door for us on regenerative agriculture. But there's a lot of muck and mystery within this. I want to know is there a margin over inputs?"
A keen advocate of innovation and use of new technology in agriculture, Tom sees better use of data as a route to unlocking the true value behind some of the principles he's exploring, and that's where he hopes Helix can help. An Omnia user, this has already helped identify parts of the farm that were underperforming and now placed in Countryside Stewardship.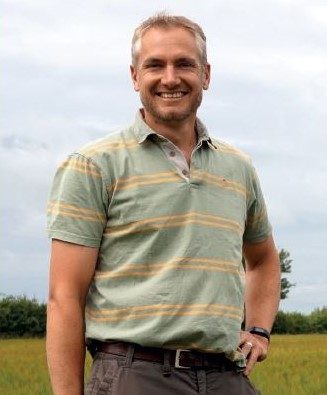 Tom Jewers, Helix East Host – GD Jewers and Son
"I can see the value in connecting data to management practices, such as allowing you to look in more detail at soil moisture in relation to N applications, and linking tiller counts to models that predict nutrient requirements," says Tom.
Key areas in focus at the farm
Working closely with Hutchinsons agronomist Mike Greener and Helix East manager Rob Jewers, there are number of key areas that will be explored across the farm, bringing in new technologies and tools to assess their value:
Management of winter wheat – assessing conventional varieties alongside hybrids, blends and bio-solutions; comparing the farm standard approach with a managed use of new tech and integrated crop management.
Improving soils – looking at the role of cover crops and innovative soil tests: specifically to explore carbon capture and exchange.
Nitrogen-use efficiency – use of inhibitors and effect on soil microbes; timings in relation to soil moisture: more efficient sources, such as foliar.
Phosphate-use efficiency – grain analysis, the effect of placement, use of biologicals and companion crops to access P reserves.
Rob also has some key questions he hopes the project will address: "Firstly do we actually need these technologies? They'll only deliver a value where they take out the guesswork. Also, I believe soil carbon will be at the forefront of thinking over the next few years – we need to be able to measure a change reliably and pull it together into tangible evidence."
Two further Helix demonstration farms, in central England and in the North, will be launched later this year or early in 2021.